Police Department

Police Chief Richard Barry

Phone: 517-645-7802
Fax: 517-645-7810
Email: rbarry@pottervillemi.org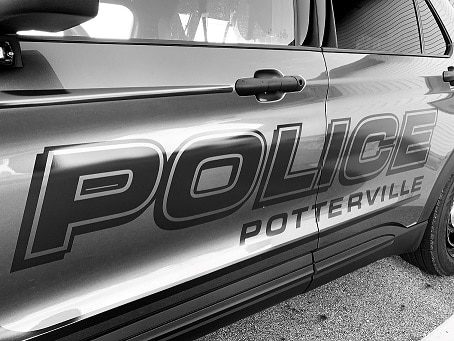 Police Department Staff 
Service Guarantee
We guarantee that police employees will respond to your request for service and that the service will be caring, courteous, and satisfactory to you.
We guarantee that you will be treated with respect, dignity, and compassion in your time of need.
We guarantee that we will do whatever it takes to correct any situation that does not meet your high standards and expectations.
"SATISFACTION GUARANTEED"
This guarantee does not imply that those who transgress will not be held accountable for their actions.
Mission Statement
The Potterville Police Department is committed to excellence.
We believe in the dignity and worth of all people.
The members of our police department will partner with the community and other agencies in an effort to prevent crime and maintain a secure environment in which to live and work. We will address the needs of each individual whenever called upon.
As an employer, we will provide a work environment that recognizes the value of each person and encourages their growth and development within the organization.
The Potterville Police Department will strive to maintain the highest integrity and professionalism to accomplish our mission. We will endeavor to lead the field in Community Policing and will always respond to the changing needs of our citizens.
Police Services
Ride-Along Program
The Potterville Police Department encourages its citizens to familiarize themselves with the operations, day-to-day activities, facilities and equipment of the Potterville Police Department. One way to accomplish this is to allow citizens to participate in a Ride-Along Program with patrol officers. Individuals interested in participating in the Ride-Along Program are required to complete an application, which is screened by the Ride-Along Program Coordinator.
The police will come check on your home during a vacation or extended period away. Please fill out the Vacation Request Form and return to the Police Department.
Business Contact Information
The police department is asking area businesses to complete a Business Emergency Contact List with the name(S) of people and their title who can be contacted if the need arises. These people will ONLY be contacted if there is an EMERGENCY with the business or property in question. The names and phone numbers will be kept at the Police Department, Potterville Township Fire Department and the 9-1 -1 Center in Charlotte. Please print legibly using blank ink. Return completed form to the Potterville Police Department.
VISION STATEMENT – PARTNERS WITH OUR COMMUNITY